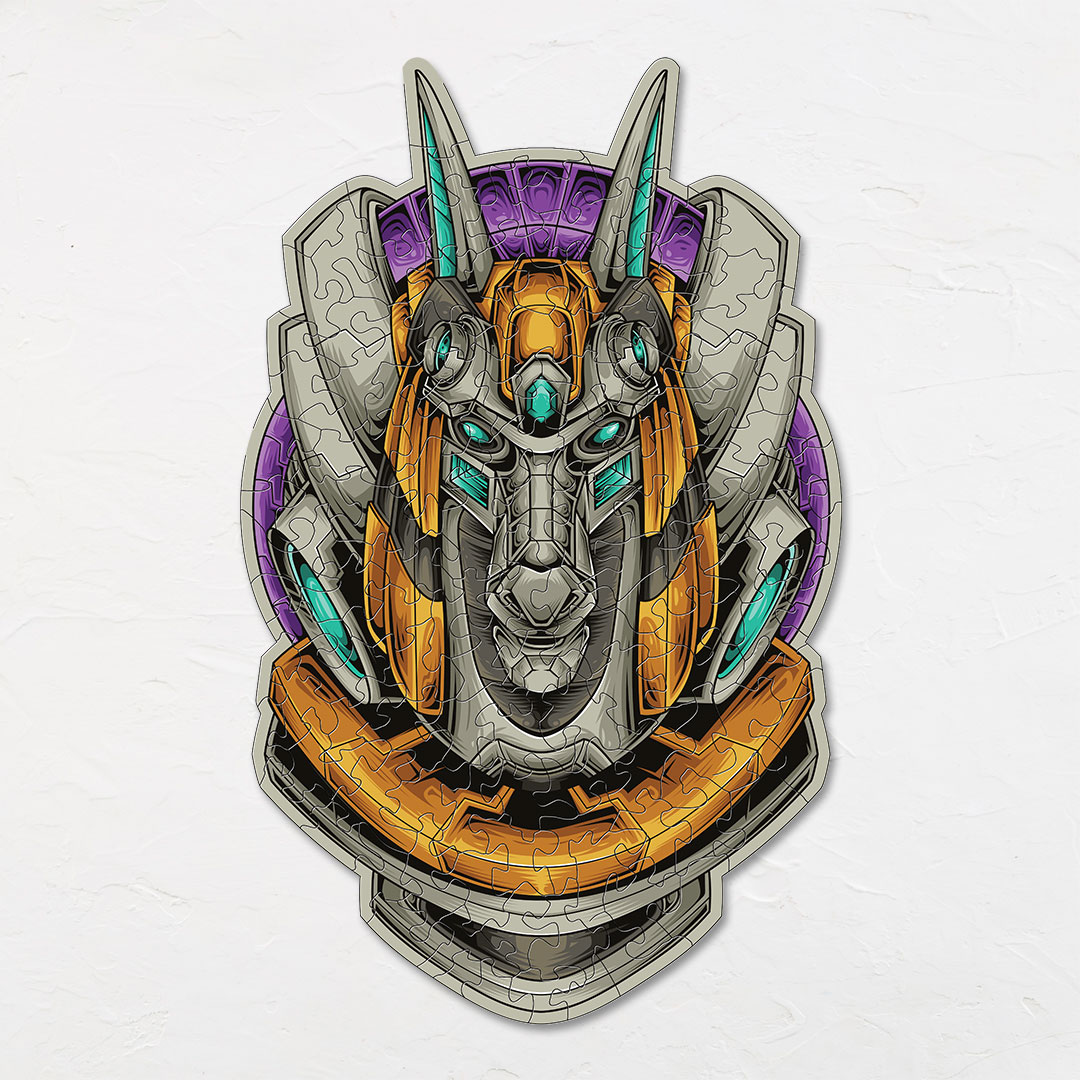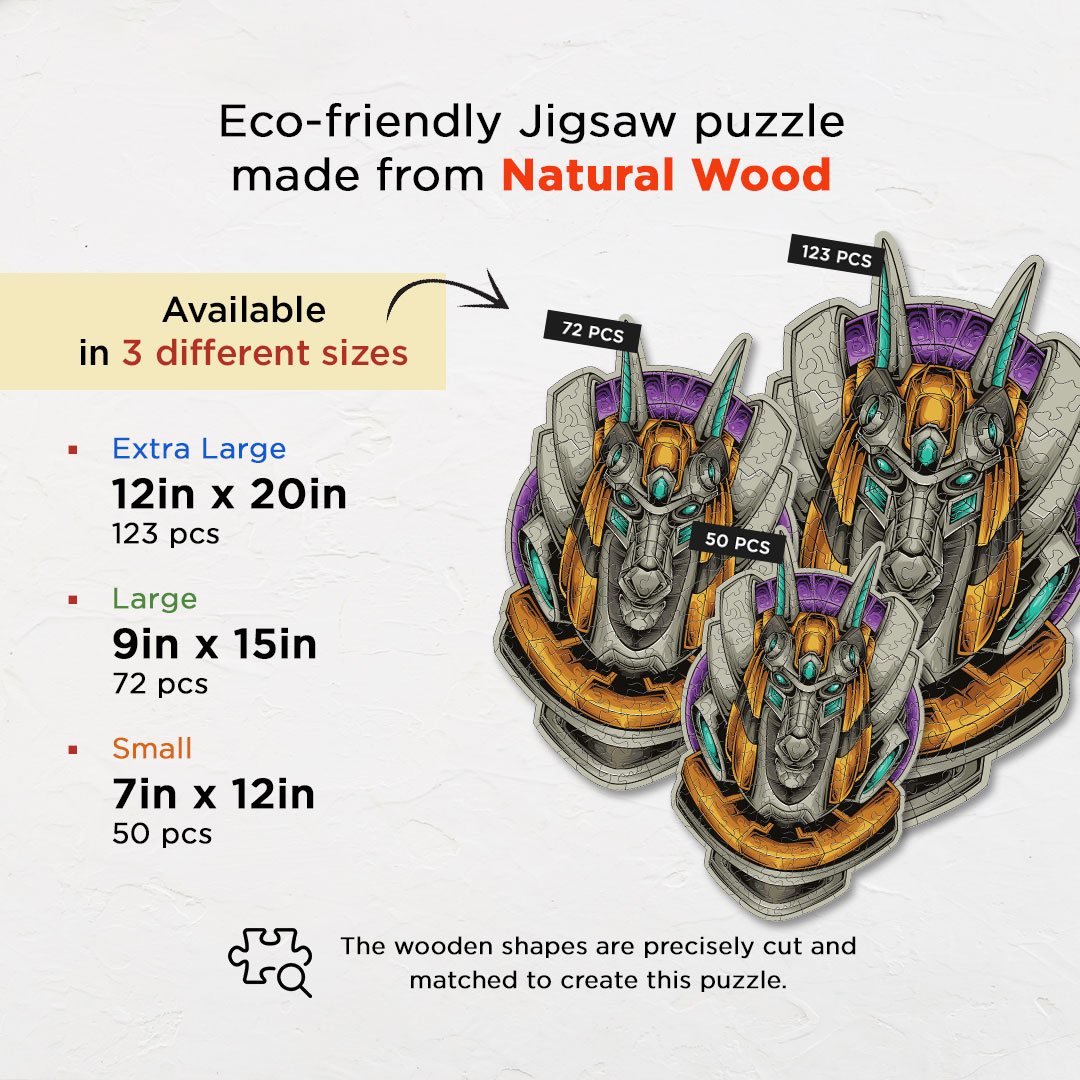 Anubis Head Cyberpunk unique jigsaw puzzle created from unique shapes
Time taken:
Complexity:

Easy

Total pcs:
Free Shipping
The choice of carrier is made based on the size, weight, and quantity of your particular order.
We do not ship the product on the public holidays and Sundays.
You will receive tracking number once the order is shipped, on registered email address.
The order may take longer time to get delivered because of the COVID-19 situation.
It may take time longer duration if the delivery is or has to be made in containment zone.
Estimated Delivery: within 5-7 days
Material: We use high-quality 4MM pine wood which is precisely cut into puzzle pieces. The wood is 100% eco-friendly and is cut with low-pressure laser beams to give it less burning and a fine finish. Wood puzzle pieces stay along for a long time as opposed to cardboard which gets rough edges and torn off after some time.
Packaging: It comes in an eco-friendly recycled MDF wooden sturdy box that keeps the pieces intact and sturdy. The pieces are then packed inside a wooly cotton bag that is easy to store and reuse. The box also contains the actual image of the puzzle, which can be used as a reference to solve the puzzle. Robozzle puzzles, it's very colorful and plays around with shapes to give it a complex challenge to solve with fun.
Size: You can find 3 different sizes of the puzzle here along with different size of shapes.
Extra Large:

Complexity: Extremely Hard | Dimension: 12 x 20 in | Total Pcs: 123 pcs

Large:

Complexity: Hard | Dimension: 9 x 15 in | Total Pcs: 72 pcs

Small:

Complexity: Medium | Dimension: 7 x 12 in | Total Pcs: 50 pcs
Why Jumboo Puzzles?
They are made of high-quality, natural, and ecological pine wood.
Our wooden jigsaw puzzles are the perfect mix of entertainment, art, and decoration.
As a decorative element, they can be framed and decorate walls.
The puzzle designs are made exclusively for Jumboo Toys and Crafts LLP by our in-house artists.
We use high-quality ink and is printed on UV printing for edge to edge finish of the jigsaw puzzle.
You won't find any other puzzle with thicker pieces.
These robozzle puzzles help kids and adults to develop problem-solving skills, and assembly skills, increase concentration and focus, develop patience, lowers stress levels, prevent cognitive decline, and strategic skills.
Each order is verified and custom packed to deliver the best quality with no errors. It will take us from 2 to 3 working days to get the order processed and get ready to ship.
Once the order is ready, we dispatch it to your desired address and share the tracking code for you to track the order.
It might take between 5 and 7 working days to reach your destination from the day of dispatch across India.
You need to make sure to track the order, so you are available when the order is delivered. The delivery partner will try max 3 times to deliver, after which they will return the order to us.
In case, you are not available to receive the order at the time of delivery and the product gets returned. To resend the order back to you, you will have to pay additional shipping charges and the return charges borne by us on an actual basis.
Note: Due to unforeseen situations or holidays the package might get delayed a few additional days so kindly bear with it, though we always send it by express delivery to some locations there might be some additional delays.
100% Safe & Secure Transactions
Free Delivery
across India
Trusted by 10,000+ Customers
Delivering to 18,000+ Pin Codes in India